Last spring, I had a business changing phone call with Holly Parker, organizer extraordinaire. She wanted a website to for her organizing business, The Clutter Crusher, but she'd had a long and frustrating experience with trying to get her site launched.
First, she'd tried WordPress but found that frustrating and a bit beyond her. So, she went with Wix. She built a site there but wasn't happy with it and didn't feel it gave her enough flexibility.
After spending over four months trying to get her site transferred back to her WordPress host, she called me. She was frustrated and overwhelmed. Her site had been down for months, and she didn't know how to make this whole website project happen.
She couldn't figure out what to do next and was completely over trying to find answers on Google, Youtube, or with the tech support who hadn't managed to fix her site. She just wanted somebody to either fix the darn thing or tell her exactly how to do it herself.
After talking for a bit, I knew that Holly was not the tech-shy client I usually work with. She was quite comfortable with technology, and it was clear she wanted to be in charge of her site. She'd hesitated to hire a designer because she didn't want to be beholden to someone else to make changes or updates on her website.
So, completely on the fly, I offered her a new website coaching program. "What if," I said, speaking slowly as I was trying to hash this out in my head, "I created a program for you. I'll teach you how to build your site, but it will be way more than that. We'll not only build the site, but we'll structure it right, brand it, write your copy together, design it using basic principles so it looks great and not like a kindergartner who broke into the craft cupboard made it. Then, we'll then build it. I'll be your guide through this whole process."
"Oookkkaay," she answered. "But, how will this work?"
I had NO idea how it would work, but I knew we could figure it out, so I kept going. "Well, I'll create a program with videos, PDF's, and written lessons to walk you through it. We'll talk on the phone, and I'll be like your personal website support staff."
She liked that idea but still wasn't sold on it. So, I gave her a guarantee. "If it doesn't work, and you do all the work like writing your copy, sketching out your site, getting images, putting your brand together, but for whatever reason, it's too much, I'll build your site for you. So, no matter what, you'll end up with a new functioning gorgeous site. It's a win/win for both of us. I'll see if I can create a new program that fills a void for people like you who want to do it on their own but need support, and you'll get a new site."
With that, she agreed, and we were off. The Entwine Website Coaching Program was born!
Holly was the perfect client to launch the Design and Build your Dream Website program with, and happily, it worked. She created a great site that she's proudly shared with her clients, friends, and family.
We went through the entire process that I go through with custom clients, including defining her business and site goals, a basic branding process, writing site copy including basic SEO & keywords, designing the site, and finally building and launching the site.
We spoke weekly or every other week, emailed, and communicated in a private Facebook group as she tackled this project. I loved guiding her through it as I relied heavily on my many years in the classroom to break each step down into manageable chunks that she would be able to do without feeling overwhelmed or frustrated.
I also had access to the backend of her site to jump on and help her out as needed.
She enjoyed having someone to email with her copy and anytime she got stuck on the tech. And she ended up with a site that she's thrilled with.
Holly is not a copywriter. She's not a designer. She's not a website developer, but with guidance, she branded, wrote, designed, and built a highly functional and calming site that she's proud of. It's integrated with her social media and an email provider that she's learned how to use. Best of all, she knows how to change, update, and even build a new site if she wants to.
"I was so stressed out about creating my website. I didn't understand any of it. It was like trying to drive a stick shift but all you know are the street signs. You really need to know HOW things work and WHY they do certain things in order to make it work in your favor. It was overwhelming, but Amy is so GOOD at what she does. She is really good at explaining things in different ways for people. I didn't feel stupid asking questions – she's like talking to a smart and understanding friend, and she really helped me when I got frustrated. It was worth every penny, and I'd recommend it to anyone. The value is incredible! The fact that I LOOOOOVE my site AND can actually fix it and edit it anytime I want to because I actually know what to do…that's incredible!"
~ Holly Parker, the Clutter Crusher
I'm proud to introduce you to The Clutter Crusher.
The Clutter Crusher Homepage
Need some organizing? Holly can help! Here's her Work With Me Page:
And her About Page. I love the heading on this page.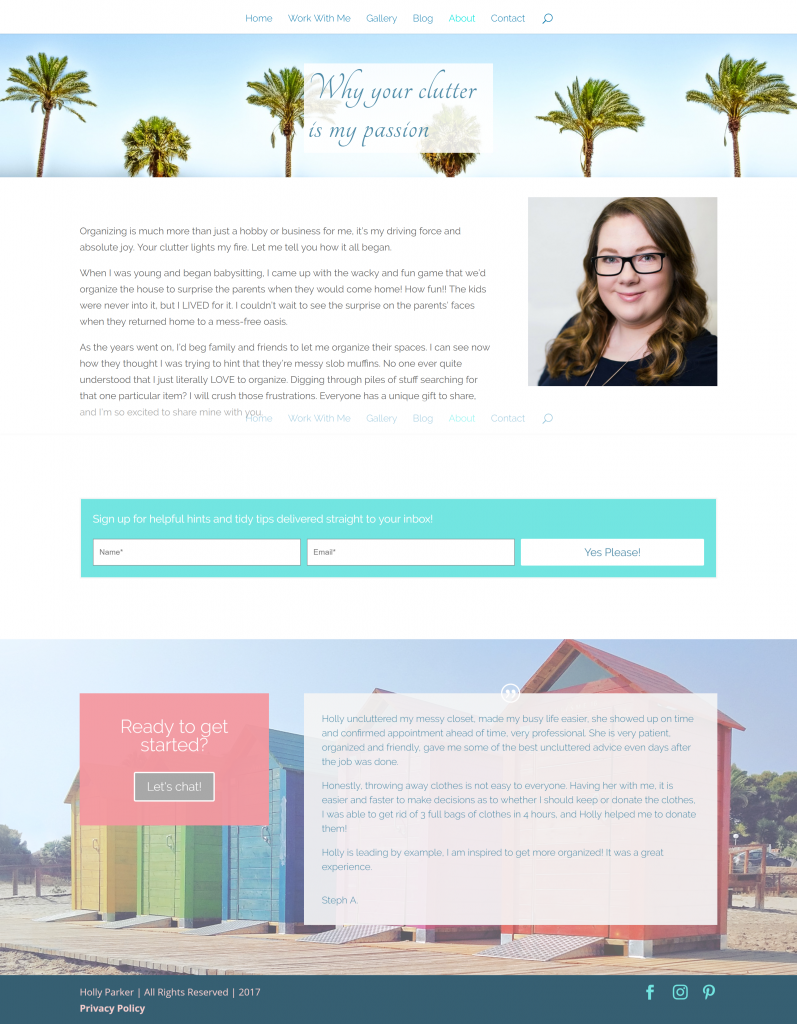 She also added a blog, Gallery of her work, and a contact page with an intake form on it.
Holly began this program wanting a site that is bright, fun and relaxing, and also clearly communicates what she does and how her clients feel after she works with them. I think she achieved that.
The coaching program is not for everyone, so who is it for? It's for business owners who are comfortable with technology, who want a custom site but their business isn't quite ready for the investment that a full-blown custom site will cost, and perhaps most importantly, who want to have creative control over their websites.